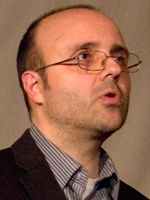 Enrique Lles.
Voz polivalente donde las haya, se ocupó de muchísimos personajes secundarios en Slayers, y hoy en dia es una de las voces que podemos disfrutar en documentales o reportajes, sin dejar de lado su carrera en la animación. Dejando aparte el hecho de que le considere un gran amigo mio, me parece un actor muy bueno. Su capacidad para hacer una gran cantidad de voces sigue sorprendiéndome, y su voz real no se parece en nada a las de animación. Le he visto doblar personalmente, y es una lástima que no esté tan a menudo en el mundo de la animación.

En Slayers Enrique interpretó muchos personajes, destacando sus roles como Xellos, Rezo, Noonsa, Shabranigudu y el príncipe Philionel El Di Saillune, durante las tres temporadas originales de la serie. Cuando se doblaron las temporadas de Slayers Revolution y Slayers Evolution-R, el papel de Xellos recayó en Xavier Castañer, el de Rezo en Daniel Oliver, el de Noonsa en Xadi Mouslemeni, el de Shabranigudu en Carles Sianes, y el de Philionel en Jordi Pineda.

Website: Enrique Lles
Extra: Entrevista concecida a Eterno Poder en el 2008



Muestras de voz.
Xellos, Slayers.

"Caballero de la Plata", Slayers.




Personajes de Slayers.

· Xellos. (Slayers Next - Slayers Try).
· Segundo jefe del Colmillo del Dragón.
· Zolf.
· Rezo. (Slayers).
· Noonsa. (Slayers).
· Ruby Eye Shabranigudu. (Slayers).
· Philionel El Di Saillune. (Slayers - Slayers Try).
· Vrumugun.
· Iyev.
· Actor de teatro.
· Bolan.
· Eruk.
· Copy Rezo.
· Rahanim.
· Tiiba.
· Jefe de Macho Battler.
· Daymia.
· Guardaespaldas de Tarim.
· Kanzel.
· Joe (forma humana).
· Frost (hermano).
· Seigram (segunda voz).
· Deo.
· Rud Balzak.
· Evia.
· Dragón anciano.
· Glavos Maunttop.
· Rey de Alto.
· Elrogos.
· Tsuboski.
· Horner.
· Dai.




Otros trabajos.

Entre los numerosos trabajos que ha hecho podemos destacar: Marine Devimon (Digimon Tamers); Jules (Vida de Perros); Skullman y Basterman (Megaman Nt Warrior); Dolton (One Piece); Town Dan Mitchel (Abilene); Jack Carver (Águila Roja); Arizona Kid (Apache Rose); Roy Rogers (Bells of Rosarita); Gene Autry (Boots and Sadless); Ken Benson (Came on Tarzan); John Allister (Cavalier of the West); Tom Riley (Coyote Trails); Blaze Howell (Dynamite Ranch); Jack Hare (Heritage of the Desert); Gene Autry (In Old Santa Fe); Gene Autry (Loaded Pistols); Greg (Loving Couples); Gene Autry (Public Cowboy Number 1); Bob Burke (Riders of the Desert); Tom Denton (Rio Ratter); Roy Rogers (The Days of Jesse James); Tom Talbot (The Laramie Kid); Marshals Blackie (The Two Gun Man); Bob Radford (Thunder in the Desert); Jim Wilsons y Spike Manning (Trail of Terror); Mae Brush (Without Honor); Bum y Vek Drow (Stars Wars, Episodio 1, videojuego).